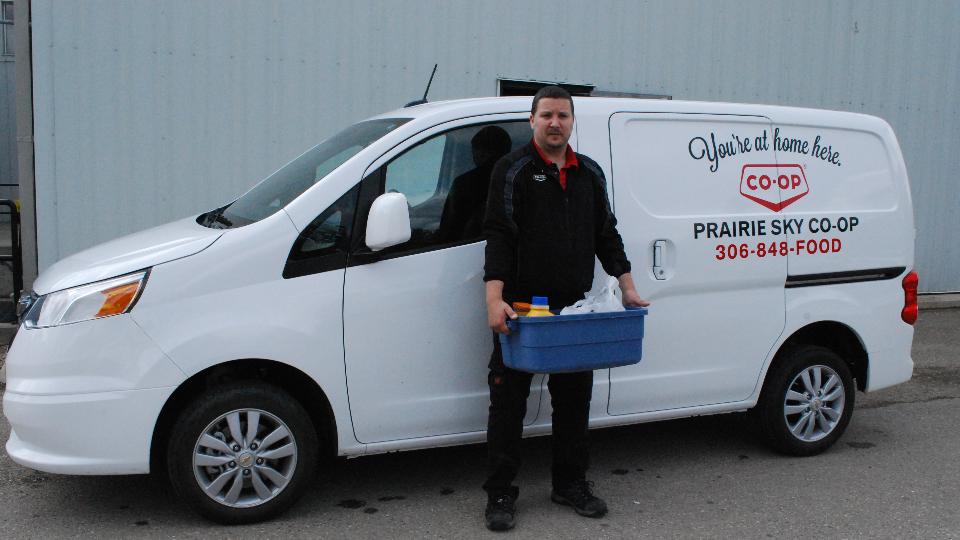 We Deliver!
October 1, 2019
One of the great reasons to shop at your Prairie Sky Co-op — we deliver! Give us a call with your grocery order and details and we can deliver to your door within Weyburn.
COVID-19 Update:
Update as of March 30: to keep our employees and customers safe, and to help us keep up with the increase of delivery orders, we ask that you please adhere to the notes below when placing a delivery order at the Food Store in Weyburn. We are also limiting the amount of product to ensure the majority of customers receive their essential items.

• Limit your orders to one per week
• Have your prescription refill delivered with your grocery order (call Pharmacy at 306-848-3682)
• Email your orders to foods@prairieskycoop.com rather than phoning them in
• Give as much information as you can with your order (detail descriptions of products, if you will take substitution if your item is out of stock, your name, co-op number, phone number, method of payment and delivery address)
• Pre-pay your order with a credit card or etransfer to foods@prairieskycoop.com when possible and avoid using cash and cheques (our staff will call you for credit card payment and to confirm receipt of etransfer when your order is being processed)
• Avoid all unnecessary contact with our delivery drivers and keep a distance of 6ft
We thank you for your patience while we adapt to this dramatic change.
We are doing our best to make sure everyone is accommodated for in these uncertain times, and this means that it can take up to two days for delivery.
Thank you in advance for your patience. Wishing everyone to stay safe and stay isolated.
For those out-of-town, we will pick your order and deliver directly to your vehicle in the parking lot if you are able to drive into the city.

Please note that due to the influx of orders, not all items will be available but we will do our best to accommodate your needs.