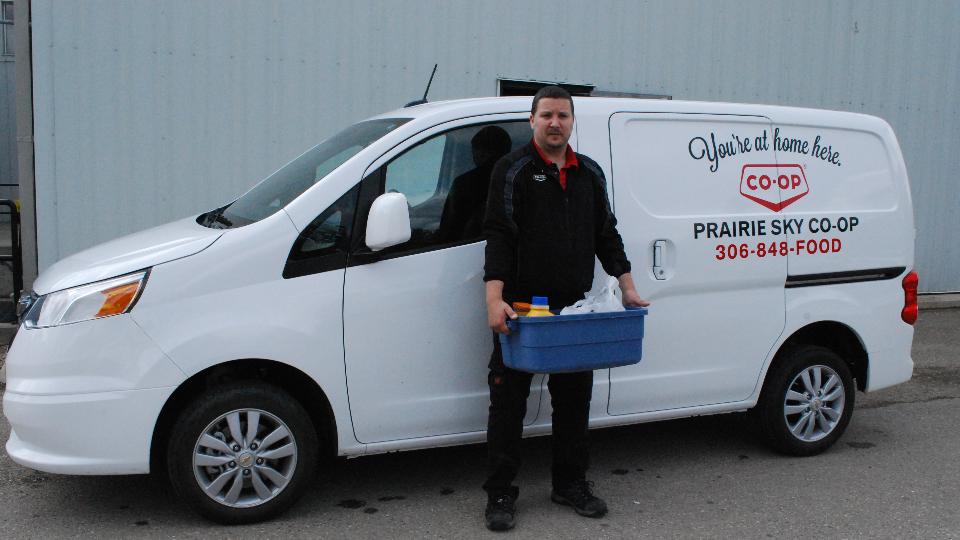 We Deliver!
October 1, 2019
As of February 7th, 2022 — our delivery pricing has changed.

Due to the increased labour and vehicle costs, Prairie Sky Co-op will be implementing a picking and delivery charge on all delivery and curb side pick-up orders in Weyburn. We apologize for the change but the increased demand has made it necessary.
Seniors
$3 Picking Fee for all orders
$3 Delivery Charge for all orders
$6 Total Fee for all delivery orders
Under 65
$4 Picking Fee for all orders
$4 Delivery Charge for all orders
$8 Total Fee for all delivery orders
**Curb-side pick up would only be the Picking Charge
**All prescriptions will continue to be FREE delivery. However, once additional grocery items are added, the picking fee will apply.
Some additional notes for grocery ordering:
• Limit your orders to once per week and have your lists complete when ordering.

• Email your complete orders using the new Online Order Form
• Have your prescription refill delivered with your grocery order (call Pharmacy at 306-848-3682 to arrange).
• If possible, use credit card payments over the phone or etransfer (only available in Weyburn). When your order is going through the till, someone will phone you with your total and to confirm payment.
• The form linked above makes it easy to provide accurate information with your order (description of products, substitution options, your name, co-op number, phone number, method of payment and delivery address)
All orders can take up to two days to process and be delivered, or be held curbside for pickup.
If you are choosing pick-up, you will receive a phone call when your order is ready and we will load your vehicle when you arrive.
Please note that due to the increase of orders, not all items will be available but we will do our best to accommodate your needs.

We appreciate your business and look forward to providing the best service possible to all our Prairie Sky Co-op customers. Thank you for your patience and understanding.
If you have concerns about this change please contact the Member Relations Manager at 306.848.3683 or by email.
At this time, we can only offer pickup and delivery services from our Food Store in Weyburn. We apologize to our branch customers for any inconvenience this may cause. Thank you.
Discover more: