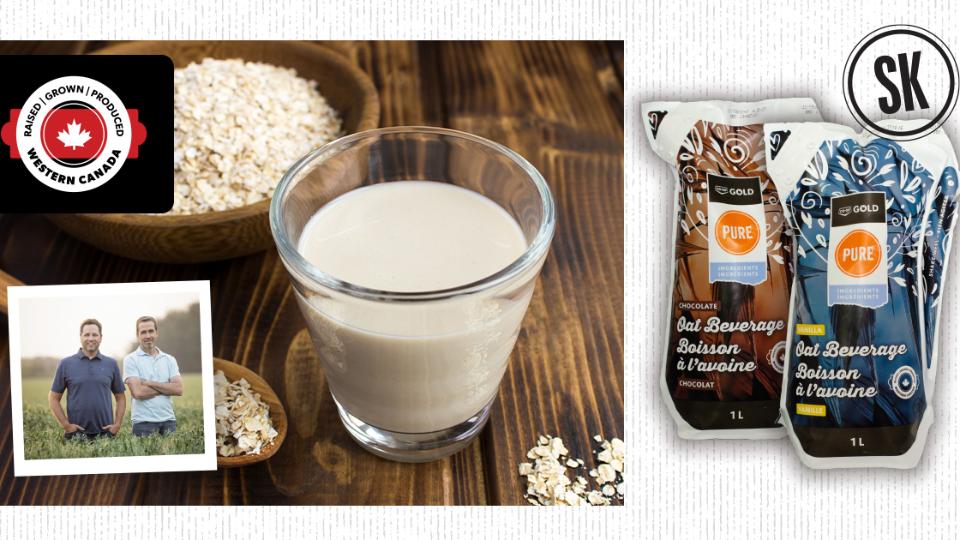 Farm to Fork
October 10, 2023
As a Farm to Fork product, our oat beverage is traceable and local. Because of Co-op's reciprocal relationships with Western Canadian growers, livestock producers, processors and manufacturers across multiple lines of business, we are uniquely positioned to be there for every step of the food journey.
In this case, our work with Cas-Grain Farms, which grows the oats, took us to just outside of Tisdale, SK.
"Co-op is such an understanding partner," Brett Casavant said. "They work with farmers everyday so it's easy to have a good relationship with them because they understand us and we understand them."
Click
HERE
to read more.
Made with local ingredients and brewed by a master, Co-op Gold Lager, Light and Pilsner are refreshing, clean, crisp beer products that are produced and processed in Saskatchewan. The can designs point to the rural Saskatchewan farming community where the beers get their start – illustrating Co-op's commitment to working alongside farmers to build communities through local food production.
Co-op Gold beers are the first products using ingredients harvested by a producer in the GROWN WITH PURPOSE® program to hit the shelves. Through Grown With Purpose, Co-op Grow Team members work with farmers to develop customized strategies to improve fertilizer efficiency, optimize production and support the health of their land.
Gordon Moellenbeck, who farms near Englefeld, Sask., is a Co-op farm customer and certified Grown with Purpose farmer whose malt barley is used in the recipe for Co-op Gold beers.
Gordon's farm focuses on growing top-quality products, creating a sustainable farm for the long term and protecting soil health.
"We need to focus on environmental stewardship to ensure safe practices for everyone," he said. "Good stewardship is important and needed to ensure sustainable practices while remaining profitable."
Co-op Gold beers have strong local connections, not only to the Moellenbeck family, but to a local maltster and brewer as well. Prairie Malt in Biggar, Sask. prepares the barley for brewing while Great Western Brewing in Saskatoon brews it. The beers are packaged and sold on the prairies.
Even the profits are used locally. "The Co-op Gold Pilsner, Light and Lager are only sold through Co-op liquor stores," Grant said. "All the profits stay local, helping to keep farm communities alive."
Click
HERE
to read more.
Discover more: