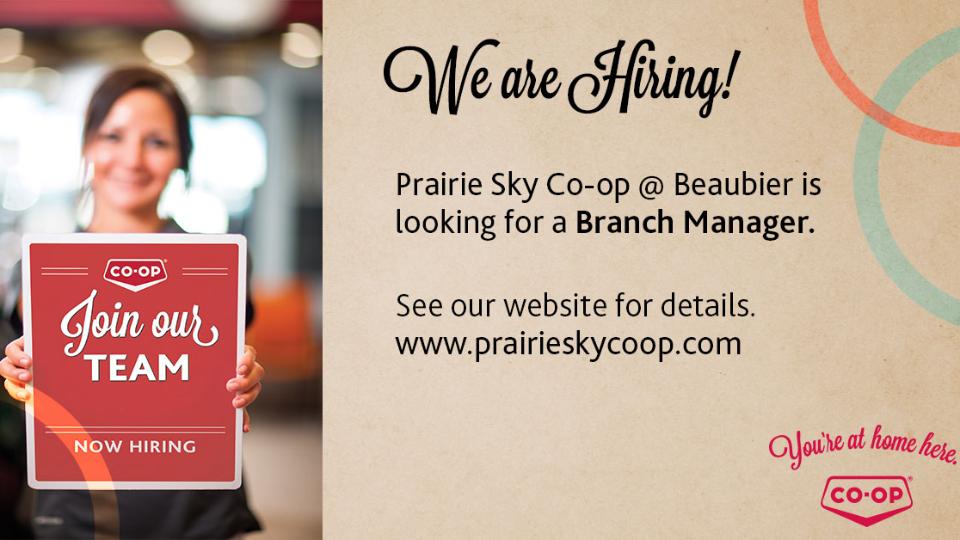 Branch Manager
Beaubier Branch
Description:
Prairie Sky Co-op is looking for a Branch Manager to join our team at our Beaubier location. We are seeking a self-motivated, ambitious, and energetic individual who will be involved in all aspects of management of this branch, which commodities include farm supply, card lock, hardware, feed, grocery, as well as tires and a service bay.
Responsibilities for this position include the following:

Prepare and implement the annual budget
Prepare, administer and be responsible for the sales, margin, expenses and inventory of the branch
Ensure claims, invoices and all other paperwork is done accurately and in a timely manner
Provide customer service in all aspects of the branch operations
Ensure proper maintenance of assets and adherence to a maintenance schedule
Demonstrate a high level of product knowledge
Ensure merchandising, product and facility image are at the highest level
Lead a culture of safety through adherence to company standards for Health & Safety, Loss Prevention and Environmental Due Diligence
Provide superior leadership through coaching, development, management of performance and feedback to team members to ensure they provide exceptional customer service and technical advice to our guests

Qualifications
Computer technical knowledge is an asset
Strong customer service skills
Demonstrated supervisory and delegation experience
Previous retail management experience is an asset
Experience with agricultural products and tire repairs would be considered an asset
Excellent leadership, interpersonal, organizational, verbal and written communication skills
Ability to foster a culture focused on safety, innovation, and teamwork
Alignment with Prairie Sky Co-op's values, mission and vision
Deadline: June 3, 2019
Prairie Sky Co-op offers a competitive salary and a comprehensive benefits package that includes extended health, dental, life insurance, long term disability, and pension, along with excellent training and opportunities for advancement. If you have the desire to grow and develop, the opportunities are endless.
If you feel this role would be a great fit with your skills and experience, and embrace the possibilities and evolution of this challenging and rewarding career opportunity, we look forward to having you join our team!

Prairie Sky Co-operative would like to thank all applicants, however, only the applicants selected to be interviewed will be contacted.

Please submit a detailed resume and cover letter in confidence to:

Gillian Zyla

215 2nd St N
Weyburn, SK
S4H 0V1
Email: gillian.zyla@prairieskycoop.com
Application Deadline:
June 4, 2019
Discover more: